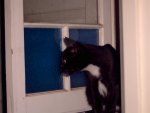 FELIX THE CAT
This is a photo of our young cat, Felix, sitting on the window sill of our lounge room, which faces the street. We were amazed when we studied this photo to see that the circle or orb is in between the cat and the camera, there is a definite circular line which can clearly be seen. The picture also shows a smaller spot in the top left hand corner.
This photo was taken by my husband at about 4am (he's a shift worker) on the 26th February 2005.
The photo was taken on a Samsung 3.2 Digimax V3 digital camera with no smoke or wind present. Photo's on either side of this one showed no irregularities.
We live in an old 3 bedroom house in Blacktown NSW in Australia. We've had some strange things happen since we moved to this house about 3 years ago. Feelings of being watched were strong when we first moved in. I woke up one morning to a locked internal door, my husband swears he didn't lock it before he left for work and my children were too small to reach the handle. This door had to have the lock removed as I snapped the key trying to turn it in the lock. This lock worked cleanly until this particular morning.
My son (7yrs) also won't sleep in his bedroom, but he also can't tell me why. This room is part of an addition to the original house and is one of the coolest rooms with the bedroom window facing towards the south. About one week ago I was in his room putting clothes away and I noticed the digits on his clock radio changing rapidly, faster than you could change them by pressing the button, the speed of the changes would fluctuate from really fast to quite slow. This continued for about 24 hours before it stopped. I actually took a short video of this happening, but there wasn't enough light to show the surround of the clock to prove that no-one had tampered with it although you can see how quickly the digits change.
All in all, the house has a lovely feel to it so whoever is here obviously doesn't mind us sharing it's space.
Submitted From: Sherridin Drew, NSW, Australia
Contact me here:
sherridrew@bigpond.com